1st IN DANCE
This program encourages the joy of movement, creativity and self-expression. Children develop positive awareness, musicality and are exposed to the dynamics of moving, weather by themselves or in a group. Teachers provide a nurturing environment where each child can and will develop the skills that will last them a lifetime. Terminology combined with basic thru professional steps are introduced. An appreciation for various dance forms is developed and nurtured.

Dance Quotes
"Someone once said that dancers work just as hard as policeman, always alert, always tense, but see, policeman don't have to be beautiful at the same time."
- George Balanchine [Founder - NYC Ballet]

"To Dance, above all, is to enter into the motions of life. It is an action, a movement, a process. The dance of life is not so much a metaphor as a fact; to dance is to know oneself alone and to celebrate it."
- Sherman Paul

"All the ills of mankind,
all the tragic misfortunes that fill the history books,
all the political blunders,
all the failures of great leaders
have arisen merely from lack of skill at dancing."
- Moliere

"When the going gets tough, the tough go dancing!"
- Unknown

"I don't try to dance better than anyone else. I only try to dance better than myself!"
- Mihkail Baryshnikov

1st IN CHILDREN
1st Position Dance Academy strongly stands by that, "every person should experience the arts...dance develops balance, control, posture, focus and fine-tuned listening skills. Because dance inherently involves problem solving, pattern and sequence, it enhances higher thinking abilitys. Excellent training in dance technique promotes self confidence, creativity and a sense of exuberance in accomplishment."

PARENT SURVEY
BE APART OF IT!!
Take a survey, sign our guest book or use our message board.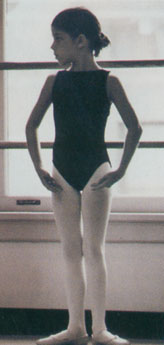 1st Position:
a term used mostly in the Ballet form of dance. A position of the feet were the heels are placed together with the toes pointed outwords and away from each other. [Preliminary Positions and Postures; Royal Academy of Dancing]
SIGN OUR GUEST BOOK!